Kennedy Meadows Resort
Horseback Riding, Fishing, Hiking, Relaxing
Kennedy Meadows Resort has been a popular destination for mountain visitors for 90 years. Located 57 miles east of Sonora on Highway 108, Kennedy Meadows Resort is open from the third Friday in April (just in time for fishing season) through the Columbus Day holiday. At an elevation of 6,000' it offers a pleasant mountain climate in the summer. The resort is spread along the banks of the Middle Fork of the Stanislaus River.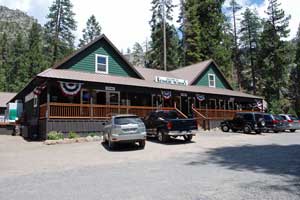 The Kennedy Meadows Resort store sells basic groceries, camping supplies, and fishing supplies.
The Kennedy Meadows Restaurant offers charming café style dining. Portions are large and prices are reasonable. Breakfast, lunch and dinner are offered 7 days a week from Mothers Day weekend until Columbus Day Weekend in October. Reservations for dinner are recommended on weekends.
The Saloon at Kennedy Meadows sells beer, wine and liquor. They have a jukebox loaded with old country music, and the dancing floor makes for a good time. The Saloon is open 7 days a week from 11:00AM until closing time.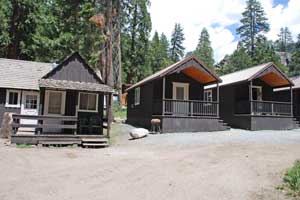 Cabin Rentals
The Kennedy Meadows has an eclectic collection of cabins ranging from simple sleeper cabins to two-story structures that can sleep up to 11 people.
Sleeper Cabins
Small cabins with bathrooms and most with kitchenettes (a small refrigerator and microwave), linens supplied. Sleep 3-4 people. No dishes or utensils. Prices range from $80 to $95 per night.
Furnished Cabins
The furnished cabins at Kennedy Meadows have bedrooms, bath with shower, and kitchens (stove, refrigerator basic dishes and cooking utensils). All linens and towels are supplied and replaced weekly. There is also a fire ring outside for evening campfire enjoyment. The cabins sleep from 4 to 11 people. Some are two-story, some are close to the river, most come with wood stoves. There is a 5 night minimum stay for most furnished cabins. A cozy 4-person cabin rents for $100 per night, while the rest range from $150 to $190. Discounts are given for longer stays.
Kennedy Meadows Pack Station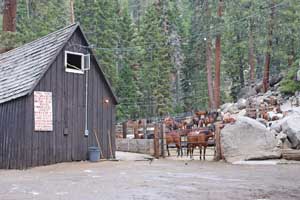 Kennedy Meadows Pack Stations offers day rides and extended pack trips into the Emigrant Wilderness.
2018 - Horse Camp
A 5 or 7-day horse camp for youths ages 10 - 15 with minimal riding experience. Improve riding skills, learn about packing mules, wilderness cooking, and back country camping.
2018 Schedule
Camp A - June 18-22
Camp B - Ages 10 - 17, June 23-281
1 includes an overnight trip. (See Facebook: Kennedy Meadows.)
Find all the Horse Camp details at Kennedy Meadows Horse Camp.
2018 - Pack Camp
For ages 16 and older. Learn the skills to lead a wilderness pack trip. Learn about safety, packing mules and horses; feeding, grooming, and saddling horses and pack animals; wilderness cooking.
TBA, 2018
Find all the Pack Camp details at Kennedy Meadows Pack Camp.
Kennedy Meadows Activities
Hiking trails lead directly from the resort into the Emigrant Wilderness. The trail leads up the river canyon along a crude road that was used to haul equipment up to build Relief Dam in the early 1900s. Within a day's walk are destinations such as Relief Reservoir and Kennedy Lake.
Kennedy Meadows Trailhead Day Hikes and Backpacking Trips
Kennedy Meadows to Emigrant Lake, 14 miles
Kennedy Meadows to Kennedy Lake, 7 miles
Kennedy Meadows to Lower Relief Valley, 7 miles
Kennedy Meadows to Relief Reservoir, 4 miles
Kennedy Meadows is located in the heart of great fishing country with the Middle Fork of the Stanislaus River at the doorstep and the Emigrant Wilderness next door. The river is regularly stocked with rainbow trout.
In the fall Kennedy Meadows is a favorite base for hunters in the D-6, X-12, X-8, and D-5 zones.
Contact by phone between 8 am and 7:30 pm:
Summer:
(209) 965-3911
(209) 965-3900
Winter:
(209) 965-3900
(209) 928-1239 (Owner)
Website: Kennedy Meadows Resort
TOP