Kennedy Meadows Pack Station
Located at Kennedy Meadows, the Kennedy Meadows Pack Station is at the edge of the Emigrant Wilderness. They offer both day trail rides and extended pack trips.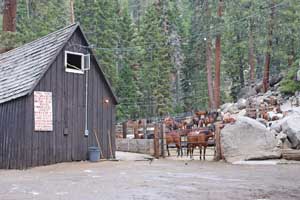 Upper Meadow Rides
The trail rides are about 1 hour and 15 minutes long, at a cost of $25 per person. They depart at 10:00 AM, 11:30 AM, 1:00 PM, 2:30 PM and 4:00 PM daily. The ride takes you through the Upper Meadow, crosses the river, and then wends its way back down the far side of the river in a scenic loop.
Half Day Ride
The Half Day Ride is about 3½ hours long, leaving at 10:30 AM. The price is $55 per person. On the typical ride, you arrive at the vista overlooking Relief Reservoir, where many riders pause to eat the lunch they brought, hike to the dam, and take pictures.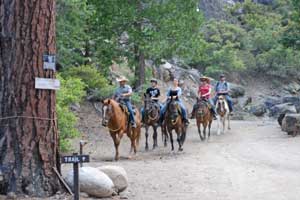 All Day Ride
All Day Rides offer a lot more flexibility in your itinerary, giving you time to reach more distant locations, stop for a picnic, or perhaps do a little fishing or hiking around the wilderness. Rides depart at 6:30 AM and 9:30 AM. The usual destination is Kennedy Lake or Kennedy Creek, where you will find excellent trout fishing. Kennedy Meadows Pack Station offers a discounted rate for groups of multiple riders: 1-2 Riders, $100 per person; 3 or more Riders, $85 per person
Destinations:
With a reservation for an All Day Ride, you may also select from one of several excellent alternate destinations:

Emigrant Wilderness Rides
Lower Relief - 5 hours. - exciting creek fishing, view of Granite Dome and East Flange Rock
Kennedy Lake - 4½ hours - excellent fishing and spectacular scenery, including Kennedy Peak
Lunch Meadow - 6 hours - high alpine scenery, meadows, soaring peaks, meandering streams

Carson-Iceberg Wilderness Rides
Minimum of 2 people, reservations required, $5.00 stock transportation fee per person added to Emigrant Basin Wilderness rates.
St. Mary's Trail - Saint Mary's Pass, Sonora Peak, Carson River.
Seven Pines Trail - Red Peak, Sheepherder Camp.
Dardanelles Cones Trail - Sword Lake, McCormick Creek.
Arnot Creek Trail - Highland Creek, Hiram Meadow.
Iceberg Trail - Disaster Creek, Paradise Valley, Boulder Creek, Clark's Fork Meadow, and Spicer Reservoir
2018 - Horse Camp
A 5 or 6-day horse camp for youths ages 10 - 15 with minimal riding experience or with riding camp experience from previous years. Improve riding skills, learn about packing mules, wilderness cooking, and back country camping.
2018 Schedule
Camp A - For those with minimal riding and camping experience or are younger ages June 18-22, 2018
Camp B - For those who have been to camp before, June 23-28, 20181
1 Includes an overnight trip to a backcountry lake. (See Facebook: Kennedy Meadows.)
Find all the Horse Camp details at Kennedy Meadows Horse Camp.
Pack Camp
For ages 16 and older. Learn the skills to lead a wilderness pack trip. Learn about safety, packing mules and horses; feeding, grooming, and saddling horses and pack animals; wilderness cooking.
Dates for 2018 TBA
Find all the Pack Camp details at Kennedy Meadows Pack Camp.
Summer Contacts for Kennedy Meadows Pack Station:
(209) 965-3911 or (209) 965-3900
For more information about Kennedy Meadows Pack Station, see
Kennedy Meadows Pack Station.
Aspen Meadow Pack Station
Trail Rides, Pack Trips
Located on Crabtree Road just a few miles from Pinecrest Lake, Aspen Meadow Pack Station is a convenient location for day rides or overnight pack trips. Aspen Meadow Pack Station offers horses and pack mules, ideally suited to carry you and your gear over any terrain. Their horses are raised and trained in the mountains, ensuring sure-footedness and a comfortable ride to your destination. The riding stock is matched to your ability, whether you are a novice or a seasoned rider. Each pack mule can carry up to 150 pounds of gear so you don't have to.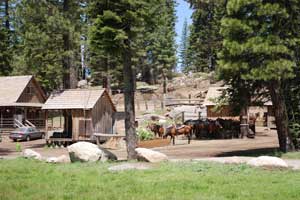 Aspen Meadow Pack Station has hour rides, half-day rides and all-day rides. They have riding horses suited to all ages and ranges of riding experience. Hour rides are taken between the hours of 8:00 am and 4:00 pm daily. All rides must be guided. They request reservations for hour, half-day and all-day rides. Please reserve your hour, half-day or all-day ride by calling (209) 965-3402.
Trail Rides
Cost Per Rider: One Hour: $25.00
Two Hour: $40.00
Half Day: $55.00
All Day: 1-2 Riders, $100 each; 3-5 Riders, $90 each; 6-15 Riders, $80 each
Aspen Meadow Pack Station offers overnight trips to destinations such as Bear Lake, Big Lake, Emigrant Lake, Huckleberry Lake, and Deer Lake. They can drop you at a base camp and pick you up later or stay with you for an all-inclusive pack trip.
(209) 965-3402
For more information, see Aspen Meadow Pack Station
Leavitt Meadows Pack Station
Leavitt Meadows Pack Station is located alongside Highway 108 in Leavitt Meadow, on the east side of Sonora Pass. They offer a variety of Trail Rides:
The Meadow Ride: $35 / person
This is a 1-hour ride loops around Leavitt Meadows. On this ride you will ride along side the river and through the gorgeous meadow. Enjoy the warm sun and refreshing breeze. This is the perfect horse adventure for those who just want a little bit of time in the saddle.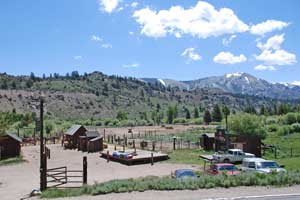 The Secret Lake Ride: $60 / person
Around 2 hours long, this ride will follow the pack trial for a ways and then head to Secret Lake. You will overlook Leavitt Meadows and the Pickel Meadow area during the ride.
The Falls Ride: $75 / person
This ride will be close to 4 hours. Follow the pack trail past Lane and Roosevelt Lake. Then split off and down to the West Walker River and the Falls. If you wish, you can pack a lunch or snack to enjoy during the break overlooking the Falls.
Pack Trips
On Spot Pack Trips you ride in with a packer to a campsite and are dropped off there for as long as you like. The packer then returns to pick up you and your gear.
With a Backpack Drop you and your backpacking equipment are taken into the back country and left to proceed on your own backpacking trip. It's a great way to jump-start a backpacking trip.
On a Base Camp Trip you are packed in with your personal equipment to a base camp set up by the packer/guide. Meals, tents, and other group equipment are provided.
Other types of trips are also available to suit your needs.
Call, Email, or Stop By for Reservations
(775) 450-0014 ~or~ craig@leavittmeadows.com
For more information, see their website: Leavitt Meadows Pack Station.