Leland High Sierra Snowplay
Closed for the 2017-2018 Season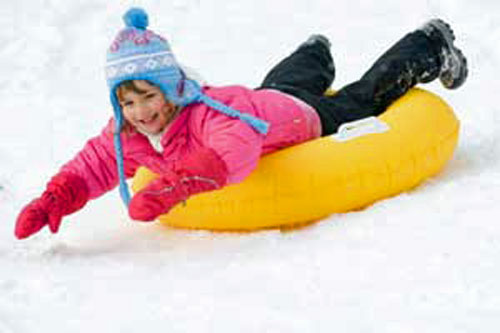 Hours of Operation
10am to 5pm
(Closed Most Wednesdays)
Leland High Sierra Snowplay is a privately operated snow park for sliding and other snow play activities. It is located 39 miles east of Sonora, California, off Highway 108, at an elevation of 6,300 feet. On its 12 acres, Leland High Sierra Snowplay Area (also known as Leland Meadows) has several tows and snowcat-groomed hills for sliders. It is a popular place for families and groups who want a safe place to enjoy the winter slopes.
Leland High Sierra Snowplay Area has a 4,000-square-foot day lodge with a snack bar and restrooms. For those who want a break from the slopes, the lodge also has a warm fire, video games, and a pool table. Outside the lodge is a sun deck with ample space to eat or simply enjoy the winter sun. They have a large parking lot with free parking.
The park is open 6 days a week from 10 AM to 5 PM. The park is closed on most Wednesdays, however they are open on Wednesdays during Christmas holiday weeks and February 17.
For safety reasons, guests must use inner tubes (the only equipment allowed on the main slopes) from Leland High Sierra Snowplay. They maintain a huge supply of tubes, ready for use. The tubes are included in the price of a ticket. The use of plastic saucers, plastic sleds, boogie boards, and vinyl inner-tubes will ONLY be allowed on the kiddy hill.
Kiddie Hill
The Kiddie Hill is an area set aside for children (and adults) who prefer a smaller slope. It is a place for children to learn about sliding and to play in the snow. Double and triple riding is allowed on the kiddie hill.
Guests may choose to purchase a ticket for use of the park's lifts; or purchase a "walk up ticket" which allows the use of the slopes, but not the lifts. In other words, you do it the old-fashion way: You walk up the hill. Children must be able to ride the lift alone. A limited number of lift tickets are sold to avoid overcrowding.
Groups
Special group rates are available for groups of 15 or more. Group leaders must contact Leland High Sierra Snowplay at least a week before arrival to make a reservation.
For complete information, see their website Leland High Sierra Snowplay.
Phone: (209) 965-4719
Group Rates
| Midweek (Non-Holiday) Group Packages | Rate |
| --- | --- |
| All day Lift Ticket | $22 |
| Under 44" All day Lower Mountain Lift Ticket | $13 |
| Group lunch voucher | $7.95 |
| Weekend and Holiday Group Packages | Rate |
| --- | --- |
| All day Lift Ticket | $36 |
| All day Walk-up Pass | $25 |
| Under 44" all day Lower Mountain Only Lift Ticket | $19 |
| Under 44" all day Lower Mountain Only Walk-up | $16 |
| Group lunch voucher | $7.95 |
It may be possible to mix your ticket purchases. For example, if half of your group of 60 wants to use the lift and the other half doesn't, then you could purchase two separate packages, e.g. 30 lift packages and 30 walk-up packages.