Sonora Pass Vacations
HOME
Lodging and Camping
Recreation Areas
Outdoor Recreation
Sightseeing:
Events
Services
Winter Activities
10 Great Backpacking Trips
Relief Reservoir, Emigrant Lake, Kennedy Lake, Walker Meadow and More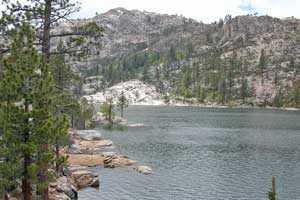 1. Relief Reservoir
Trailhead: Kennedy Meadows
Distance: 4.2 miles
Elevation: 6,300' - 7,600'
The classic overnight backpack trip to Relief Reservoir is perfect for beginners and experienced backpackers alike. The 4.2-mile hike climbs 1,200 feet, enough to give everyone a good workout, but not so difficult as to leave inexperienced hikers behind.
The hike begins at Kennedy Meadows, one of the best trailheads in the Sierra. The first mile is across easy meadow. Then the climb begins along the old road used to build Relief Dam. At 2.8 miles you can set your packs down and walk out to explore the dam and look up the length of the reservoir.
The last 1.5 miles carry you high along the shore of Relief Reservoir to Grouse Creek. As soon as you cross the creek turn downhill toward the reservoir and camp on a spacious point with great views of the reservoir. Fishing is good in the morning and evening. On your way out stop at the Kennedy Meadow store for a soda or an ice cream.
Sierra North has long been the best backpacking guide for Northern California.
2. Emigrant Lake
Trailhead: Kennedy Meadows
Distance: 13 miles
Elevation: 6,300' - 9,400'
Most backpackers take two days to make the 13-mile hike from the Kennedy Meadows trailhead to Emigrant Lake deep in the Emigrant Wilderness. A camp near Emigrant Lake makes a great base for exploring nearby lakes such as Buck Lakes, Long Lake, Huckleberry Lake, or Big Lake, or climbing peaks like 9,400' Sachse Monument or 10,500' Bigelow Peak (Class 1).
Start from Kennedy Meadows, hike past Relief Reservoir, and up Summit Creek. Sheep Camp or Lunch Meadow make a good first night camping places. The next day cross over Mosquito Pass and drop down to Emigrant Lake early enough to pick out a great camping spot. On the way home consider going via Emigrant Meadow and Brown Bear Pass (9,800') (an easy pass going north) and back to Kennedy Meadows in one day.
3. Deer Lake
Trailhead: Gianelli Cabin (12 miles east of Pinecrest off Crabtree Road)
Distance: 12 miles
Elevation: 8,600' - 9,100' - 8,400'
Starting at Gianelli Cabin, the 12-mile hike to Deer Lake makes an excellent 3-night backpacking trip. The trail crosses Burst Rock (9,100') and passes through Whiteside Meadow, continuing on past Spring Meadow before swinging south to Deer Lake (8,400'). Although there are plenty of ups and downs, most of the climbs are never more than 400 feet in elevation change. From Deer Lake short day hikes easily take you to Long Lake, Buck Lakes, Wood Lake, Karis Lake, and Leighton Lake.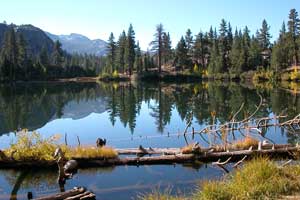 4. Lane Lake
Trailhead: Leavitt Meadow
Distance: 3 miles
Elevation: 7,100' - 7,500'
From the Leavitt Meadow Campground on the east side of Sonora Pass the 3-mile hike to Lane Lake takes about an hour and a half. With only a about 500 feet gain in elevation, the hike to Lane Lake makes a great beginners trip. the first half of the hike is along Leavitt Meadow. Then a short climb carries you over a ridge and down to the sister lakes, Roosevelt (shown above) and Lane. Lane Lake has the better camping site. Both lakes offer good fishing.
5. Lower Relief Valley
Trailhead: Kennedy Meadows
Distance: 7 miles
Elevation: 6,300' - 8,100'
Lower Relief Valley is a broad meadow with a meandering stream, surrounded by grand peaks. It was the located where 1852 emigrants, struggling to forge a new mountain trail, were met by a relief party coming out of Sonora. The valley makes a great base camp for further explorations of the area.
The 7-mile hike to Lower Relief Valley is full of interesting terrain. Once again, start at Kennedy Meadows and follow the trail past Relief Reservoir. At mile 4.5 you come to a trail junction. Turn right and descend to a crossing of Summit Creek (difficult early in the year, easy late summer). Then the trail climbs along the creek to Lower Relief Valley.
6. Kennedy Lake
Trailhead: Kennedy Meadows
Distance: 6 miles
Elevation: 6,300' - 7,800'
Kennedy Lake is a moderate 6-mile hike from Kennedy Meadows. Follow the same trail from Kennedy Meadows up the river gorge, watching for the turnoff to the left just before the PG&E building. After the turnoff the trail climbs steeply for a short time and then levels out into the Kennedy Creek valley. Camping is better along the creek than at the lake. Fishing is great in the stream and at Kennedy Lake.
100 Hikes in California's Central Sierra includes the Kennedy Lake trip along with others in the Emigrant and Hoover Wildernesses.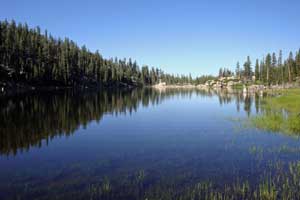 7. Bear Lake
Trailhead: Crabtree (8 miles east of Pinecrest on Crabtree Road)
Distance: 3.5 miles
Elevation: 7,100' - 7,700'
With only about 600 feet in elevation gain, Bear Lake makes an attractive backpacking outing for beginners or for early season hiking. The hike begins at Crabtree Trailhead. Crabtree Road leaves Highway 108 just east of Cold Springs, or you can pick up the road off the Dodge Ridge Road out of Pinecrest. The 3.5 mile trail usually takes only a couple of hours to cover, leaving the rest of the day for fishing or relaxing. Along the way after 2.5 miles you will pass Camp Lake, an alternate camping destination. While the fishing is better at Camp Lake, the camping is much better at Bear Lake.
8. Chewing Gum Lake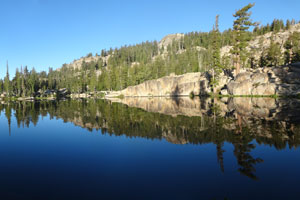 Trailhead: Gianelli Cabin (12 miles east of Pinecrest off Crabtree Road)
Distance: 4.5 miles
Elevation: 8,600' - 9,100' - 8,700'
Chewing Gum Lake is another great destination as a beginning backpacking trip. The 4-mile trail has some ups and downs, gaining about 1,000 feet when all the uphill sections are added together. The trailhead is at Gianelli Cabin (8,600'). The hike begins by crossing Burst Rock (9,100') with some great opportunities for photography. Then the trail drops and crosses another ridge before descending into Lake Valley. Chewing Gum Lake (8,700') is by far the largest of the lakes in the valley.
9. Boulder Lake
Trailhead: Iceberg Meadow (end of the Clark Fork Road)
Distance: 4 miles
Elevation: 6,500' - 8,200'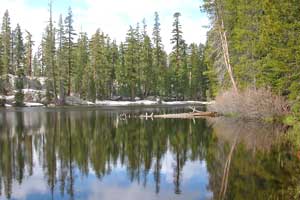 The 4-mile hike to Boulder Lake is for the adventurous because the trail up to the lake is not well maintained and may require a little bit of scrambling. Park at Iceberg Meadow at the end of the Clark Fork Road and hike up the Clark Fork 2.5 miles on excellent trail to the turnoff to Boulder Lake. Then begin a stiff uphill climb of about 1,200 more feet to the lake.
10. Leavitt Lake to Walker Meadows
Trailhead: Leavitt Lake (2.6 miles off Highway 108 near Leavitt Meadow)
Distance: 8 miles
Elevation: 9,500' - 10,600' - 8,500'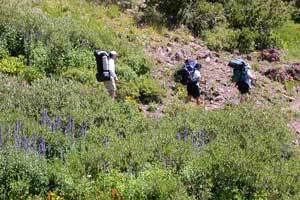 This 8-mile hike is for more experienced backpackers who are used to hiking at high elevations. The trip begins at Leavitt Lake, at an elevation of 9,500 feet. Leavitt Lake is on the east side of Sonora Pass on a dirt side-road. It is best visited after mid-summer when the road is dry and creeks are low. The hike takes you immediately up 1,100' to join the Pacific Crest Trail on a ridge with amazing views of the surrounding peaks and valleys. Then you drop down 2,000 feet into Walker Meadows (8,500'), choosing your campsite from among a dozen small lakes.
Backpacking on Ebbetts Pass and Carson Pass
Ebbetts Pass

Ebbetts Pass (Highway 4) to the north offers even more backpacking possibilities. The Pacific Crest Trail from Sonora Pass leads north to Ebbetts Pass. There you can explore the East Fork of the Carson River and other hikes in the Carson-Iceberg Wilderness. To learn more, visit our sister website
Ebbetts Pass Adventures.
Carson Pass

A little farther to the north, Carson Pass (Highway 88) has some wonderful backpacking destinations in the Mokelumne Wilderness For backpacking destinations off Carson Pass, see Up and Over Carson Pass.

High Sierra Trails
A Backpacker's Guide to the
Most Spectacular Trails
in the Sierra Nevada