The Trail to Bear Lake
An Easy Trek to a Secluded Lake
Bear Lake rests on Lily Creek just inside the Emigrant Wilderness. This peaceful little lake makes a great early season hike as well as an easy trek for those wishing to get away for the weekend without spending all day on the trail. Camping at Bear Lake, however, is limited to a single night. The trail undulates so there is a little more climbing than appears at first glance, but none of the hills are too challenging.
To reach Crabtree Camp Trailhead drive south from Pinecrest on the Bell Meadow/Crabtree Camp Road. Soon after the Aspen Pack Station the road turns to dirt, but Crabtree Camp is not far beyond that point. The hike carries you from the Bell Creek Watershed past Camp Lake and up to Bear Lake.
Hiking Guide to Bear Lake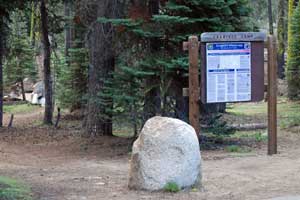 Getting Organized
Wilderness Permits for the hike to Bear Lake can be picked up at the Summit Ranger Station near Pinecrest or back at the Mi-Wuk Village Ranger Station. Park at the well developed trailhead parking lot. Restrooms are available there. Also, one night camping before your trip is permitted there at the trailhead. There are sites with picnic tables and some sites with room to park horse trailers.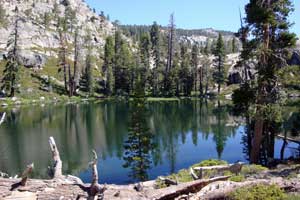 Hiking to Bear Lake
Cross the little bridge and set out on the trail for Bear Lake, climbing steadily for the first mile. Soon, however, the grade eases and you settle into an easy walk. After 2.5 miles you reach Camp Lake (shown right), which has good fishing; but you will find superior campsites at Bear Lake. Continue on up Lily Creek for another mile to your destination.
Camping
Camping is good at either end of the lake and along the north shore. Some of the best sites are half way up the lake shore or nearly to the head of the lake. Firewood is difficult to find since the lake is such a popular destination. The number of nights you can camp at Bear Lake may be limited. Check at the ranger station when you pick up your permit.
Thomas Winnett's Sierra North has long been the best guide to backpacking in the northern Sierra Nevada. In this 9th edition written with Kathy Morey you will find a section on a variety of hikes which begin at the Crabtree Trailhead.