Sonora Pass Vacations
HOME
Lodging and Camping
Recreation Areas
Outdoor Recreation
Sightseeing:
Events
Services
Winter Activities
Popular Horseback Riding Trails
Kennedy Meadows to Snow Lake
This 17-mile ride climbs nearly 3,000' to reach its destination - Snow Lake - in the heart of the Emigrant Wilderness. Kennedy Meadows is one of the most horse-friendly trailheads in the Sierra. Parking for horse trailers can be arranged with the Kennedy Meadows Resort. The trail climbs up past Relief Reservoir and then up Summit Creek before veering off over Mosquito Pass. A loop can be made by going back via Emigrant Pass and Brown Bear Pass.
In 2009 members of the Backcountry Horsemen of California - Mid Valley Unit did extensive trail work in the area of Snow Lake, clearing dead trees off the trails and making them suitable for travel by horseback.
Crabtree Trailhead to Deer Lake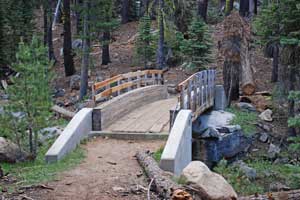 From Highway 108 one mile east of Cold Springs turn onto Crabtree Road (4N26) and follow it to the Crabtree Trailhead. The ride to Deer Lake is 9.5 miles, climbing about 1,500 feet in elevation. The trail leads past Camp Lake and through Piute Meadow before climbing up past Gem and Jewelry lakes. Fishing is good for rainbows in Deer Lake.
In 2009 a member of the Backcountry Horsemen of California - Mid Valley Unit out of Modesto installed a new hitching rail at the trailhead.
For a map of the trail to Deer Lake, see
Gianelli Cabin to Deer Lake
Pine Valley Horse Camp to Wood Lake
From Highway 108 one mile east of Cold Springs turn onto Crabtree Road (4N26) and follow it to the Crabtree Trailhead From there drive half a mile south to the Pine Valley Horse Camp. The 10-mile trail to Wood Lake climbs about 1500'. From the horse camp the trail skirts Bell Meadow and climbs up to Pine Valley, passing Grouse Lake. Then it crossed Cherry Creek before making the final push up to Wood Lake.
In 2008 and again in 2010 members of the Backcountry Horsemen of California - Mid Valley Unit did extensive maintenance work to the Pine Valley Horse Camp and to the surrounding trails.
Martin's Cow Camp to Long Valley
Martin's cow Camp is located on the Eagle Meadow Road which splits off Highway 108 about 12 miles above Strawberry. Follow the road about 6 miles to Martin's Cow Camp. From there several good day rides are open to you. One of the most popular is up Long Valley, taking you to the base of East Flange Rock. Another good ride is the 4-mile route through Eagle Meadow, across Eagle Pass, and down to Cooper Meadow.
The Twain Harte Horsemen often plan rides in this area.
Leavitt Meadow to Piute Meadow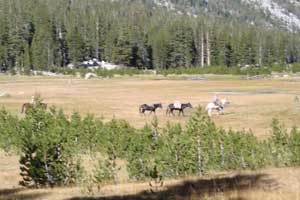 A turnout located across the highway and just west of the Leavitt Meadow Pack Station provides a good place to park horse trailers before setting out at Leavitt Meadow on the east side of Sonora Pass. Directly across the highway from the turnout between the private campground and the pack station is an access trail. This trip is best made any time mid-summer to fall. Early in the year the West Walker River is too high to ford. The ride to Piute Meadow is 10 miles, climbing from 7,200' to 8,200'. Piute Meadow is a beautiful setting with Tower Peak looming above. A ranger station is located at the meadow.
Clark Fork to Highland Lakes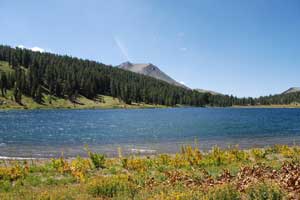 For those camped at the Clark Fork Horse Camp the trail up Arnot Creek makes an adventurous ride with great vistas of the surrounding countryside. One of the best ways to do the ride is to have someone else in the party drive around to Highland Lakes on Ebbetts Pass and be there waiting with a camp set up and a cooler full of cold drinks. The 9-mile trail climbs 2,500' feet.
Lower Elevation Riding Places
Lower elevation locations popular for horseback riding include Thompson Meadow, Bourland Meadow, Reynolds Creek, Deer Creek, and Camp Clavey. These places are mostly south of Long Barn.
Aspen Meadow Pack Station
Located on the Bell Meadow Road just a few miles from Pinecrest Lake, Aspen Meadow Pack Station is a convenient location for day rides or overnight pack trips. Aspen Meadow offers horses and pack mules, ideally suited to carry you and your gear over any terrain. Their horses are raised and trained in the mountains, ensuring sure-footedness and a comfortable ride to your destination. The riding stock is matched to your ability, whether you are a novice or a seasoned rider. Each pack mule can carry up to 150 pounds of gear – so you don't have to!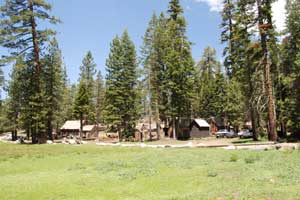 Trail Rides
Aspen Meadow offers hour rides, half-day rides and all-day rides. We have riding horses suited to all ages and ranges of riding experience. Hour rides are taken between the hours of 8:00 am and 4:00 pm daily. All rides must be guided. We request reservations for hour, half-day and all-day rides. Please reserve your hour, half-day or all-day ride by calling (209) 965-3402.
Trail Ride Costs
Cost Per Rider: One Hour: $20.00
Two Hour: $35.00
½ Day: $50.00
All Day: 1-2 Riders, $75 each; 3-5 Riders, $70 each; 6-15 Riders, $65 each
Aspen Meadow Pack Station offers overnight trips to destinations such as Bear Lake, Big Lake, Emigrant Lake, Huckleberry Lake, and Deer Lake. They can drop you at a base camp and pick you up later or stay with you for an all-inclusive pack trip.
Kennedy Meadows Pack Station
Located at Kennedy Meadows, the Kennedy Meadows Pack Station is at the edge of the Emigrant Wilderness. They offer both day trail rides and extended pack trips.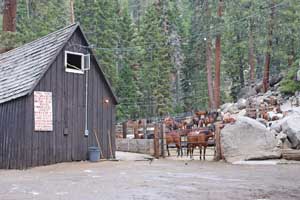 Upper Meadow Rides
The trail rides are about 1 hour and 15 minutes long, at a cost of $25 per person. They depart at 10:00 AM, 11:30 AM, 1:00 PM, 2:30 PM and 4:00 PM daily. The ride takes you through the Upper Meadow, crosses the river, and then wends its way back down the far side of the river in a scenic loop.
Half Day Ride
The Half Day Ride is about 3½ hours long, leaving at 10:30 AM. The price is $55 per person. On the typical ride, you arrive at the vista overlooking Relief Reservoir, where many riders pause to eat the lunch they brought, hike to the dam, and take pictures.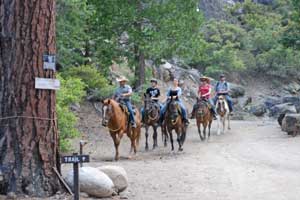 All Day Ride
All Day Rides offer a lot more flexibility in your itinerary, giving you time to reach more distant locations, stop for a picnic, or perhaps do a little fishing or hiking around the wilderness. Rides depart at 6:30 AM and 9:30 AM. The usual destination is Kennedy Lake or Kennedy Creek, where you will find excellent trout fishing. Kennedy Meadows Pack Station offers a discounted rate for groups of multiple riders: 1-2 Riders, $90 per person; 3-8 Riders, $75 per person; 9-15 Riders, $70 per person.
Destinations:
With a reservation for an All Day Ride, you may also select from one of several excellent alternate destinations:

Emigrant Wilderness Rides
Lower Relief - 5 hours. - exciting creek fishing, view of Granite Dome and East Flange Rock
Kennedy Lake - 4½ hours - excellent fishing and spectacular scenery, including Kennedy Peak
Lunch Meadow - 6 hours - high alpine scenery, wildflowers, meadows, soaring peaks, meandering streams

Carson-Iceberg Wilderness Rides
Minimum of 2 people, reservations required, $5.00 stock transportation fee per person added to Emigrant Basin Wilderness rates.
St. Mary's Trail - Saint Mary's Pass, Sonora Peak, Carson River.
Seven Pines Trail - Red Peak, Sheepherder Camp.
Dardanelles Cones Trail - Sword Lake, McCormick Creek.
Arnot Creek Trail - Highland Creek, Hiram Meadow.
Iceberg Trail - Disaster Creek, Paradise Valley, Boulder Creek, Clark's Fork Meadow, and Spicer Reservoir
2018 - Horse Camp
A 5 or 6-day horse camp for youths ages 10 - 15 with minimal riding experience or with riding camp experience from previous years. Improve riding skills, learn about packing mules, wilderness cooking, and back country camping.
2018 Schedule
Camp A - For those with minimal riding and camping experience or are younger ages June 18-22, 2018
Camp B - For those who have been to camp before, June 23-28, 20181
1 Includes an overnight trip to a backcountry lake. (See Facebook: Kennedy Meadows.)
Find all the Horse Camp details at Kennedy Meadows Horse Camp.
2018 - Pack Camp
For ages 16 and older. Learn the skills to lead a wilderness pack trip. Learn about safety, packing mules and horses; feeding, grooming, and saddling horses and pack animals; wilderness cooking.
June TBA, 2018
Find all the Pack Camp details at Kennedy Meadows Pack Camp.
Summer Contacts for Kennedy Meadows Pack Station:
(209) 965-3911 or (209) 965-3900
For more information about Kennedy Meadows Pack Station, see
Kennedy Meadows Pack Station.
Leavitt Meadows Pack Station
Leavitt Meadows Pack Station is located alongside Highway 108 in Leavitt Meadow, on the east side of Sonora Pass. They offer a variety of Trail Rides: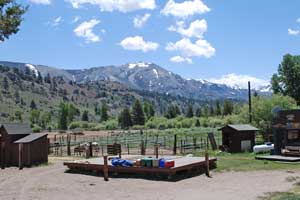 The Meadow Ride: $30 / person
This is a 1-hour ride loops around Leavitt Meadows. On this ride you will ride along side the river and through the gorgeous meadow. Enjoy the warm sun and refreshing breeze. This is the perfect horse adventure for those who just want a little bit of time in the saddle.
The Secret Lake Ride: $55 / person
Around 2 hours long, this ride will follow the pack trial for a ways and then head to Secret Lake. You will overlook Leavitt Meadows and the Pickle Meadow area during the ride.
The Falls Ride: $70 / person
This ride will be close to 4 hours. Follow the pack trail past Lane and Roosevelt Lake. Then split off and down to the West Walker River and the Falls. If you wish, you can pack a lunch or snack to enjoy during the break overlooking the Falls.
Pack Trips
On Spot Pack Trips you ride in with a packer to a campsite and are dropped off there for as long as you like. The packer then returns to pick up you and your gear.
With a Backpack Drop you and your backpacking equipment are taken into the back country and left to proceed on your own backpacking trip. It's a great way to jump-start a backpacking trip.
On a Base Camp Trip you are packed in with your personal equipment to a base camp set up by the packer/guide. Meals, tents, and other group equipment are provided.
Other types of trips are also available to suit your needs.
Call, Email, or Stop By for Reservations
530-495-2196 ~or~ craig@leavittmeadows.com
Clark Fork Horse Camp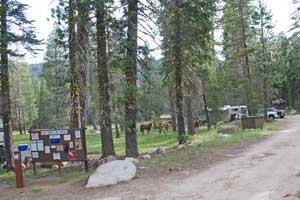 The Clark Fork Horse Camp is situated next to the Clark Fork Campground on the Clark Fork Road. It has 14 camping sites suitable for tents or RVs and 2 group sites. There is no piped water. The campground has vault toilets and a watering trough for horses. Horse trails leading from the campground are not maintained and known as "beater trails". The nearby Carson-Iceberg Wilderness provides miles of riding trails. The campground is on a first-come, first-served basis.
Cost: $12 for a single site, $24 for small group area (2 vehicles), $48 for large group area (4 vehicles maximum).
Kerrick Corral Horse Camp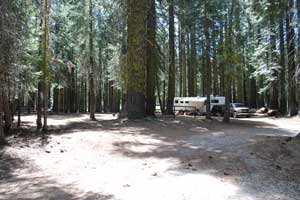 Kerrick Corral Horse Camp is an undeveloped camping area designated for campers with horses. It is located near the Aspen Meadow Pack Station. Take the Crabtree Road off Highway 108 just east of Cold Springs and drive 7.5 miles. Just before the pack station turn right onto forest road 4N25. The camp is a quarter mile down the road on your left. Roads are paved most of the way, making for easy transport of trailers. The campground has tables, vault toilets, and tie rails.
Pine Valley Horse Camp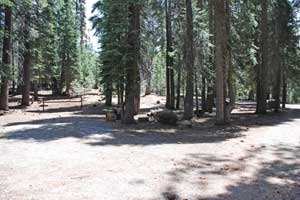 Pine Valley Horse Camp is another undeveloped camping area designated for campers with horses, located on Crabtree Road. It is 4 miles beyond the Aspen Meadow Pack Station. Take the Crabtree Road off Highway 108 just east of Cold Springs and drive 10.5 miles. Two miles after passing the pack station, stay to your right on Forest Road 4N26 and then turn right down a gravel road. The two miles of dirt road between the pack station and the turnoff onto the gravel road are somewhat bumpy.
The campground has picnic tables, vault toilets, a watering trough, tie rails, and ample space for trailers.
Eagle Meadow
The high country around Eagle Meadow has been a favorite horseback riding area for more than a century. "Dispersed Camping" is allowed in the National Forest there. Martin's Cow Camp is a favorite gathering places. Take Highway 108 about 12 miles above Strawberry and turn onto the Eagle Meadow Road. Follow it about 6 miles to Martin's Cow Camp.
Hammill Canyon Horse Camp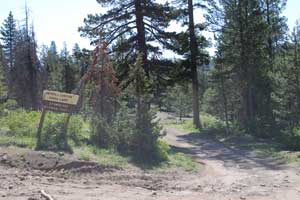 Hammill Canyon Horse Camp is an undeveloped "dispersed camping" area for people with horses. Drive 2.5 miles east from Strawberry and turn onto the Herring Creek Road. The road begins paved, but the last few miles are bumpy dirt road. Follow the road 1 mile past the turnoff to Herring Creek Reservoir. Watch for the sign to the horse camp on your right.
Coyote Meadow
Coyote Meadow is an undeveloped camping area popular with horseback riders. It is located out the Herring Creek Road near Cooper Peak with access to miles of great riding trails. To reach the area, drive east from ' Strawberry 2.5 miles to the Herring Creek turnoff and follow it 6.5 miles to a Y. Go right onto forest road 4N12. Follow it 4.5 miles to a dirt road turnoff to the right leading down to Coyote Meadow. There is a corral there.
Horseback Riding on Ebbetts Pass and Carson Pass
Ebbetts Pass

The Ebbetts Pass area connects with many of the equestrian trails that lead north from Sonora Pass, such as the Highland Lakes area and the Pacific Crest Trail. Dozens of other interesting riding trails begin along from Highway 4 in Calaveras and Alpine counties. To learn more, visit our sister website
Ebbetts Pass Adventures.
Carson Pass

Farther north on Carson Pass (Highway 88) are many more trails for riding. A classic ride is from Carson Pass to Echo Summit. For horseback riding ideas along Carson Pass, see Up and Over Carson Pass.