Sonora Pass Vacations
HOME
Lodging and Camping
Recreation Areas
Outdoor Recreation
Sightseeing:
Events
Services
Winter Activities
Pinecrest Lake
Elevation: 5,604'
Capacity: 18,000 acre feet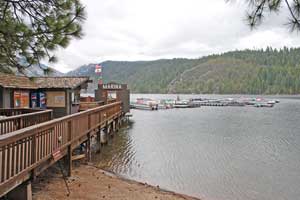 Pinecrest Lake with its beautiful setting draws thousands of boaters every year. It has a boat launching ramp, a marina, boat rentals, and easy access to supplies. A 20-MPH speed limit governs the lake, making it most popular for fishing, sailing, rowing, and recreational boating. Water skiing and Jet skis are not allowed on Pinecrest Lake . A nearby picnic facility provides restrooms, picnic tables, piped water, and fireplaces. Boats can be docked at the Pinecrest Lake Marina for $15 per night, $90 per week, or $225 per month. A trailer parking area is located nearby.
Beardsley Reservoir
Elevation: 3,352'
Capacity: 69,000 acre feet.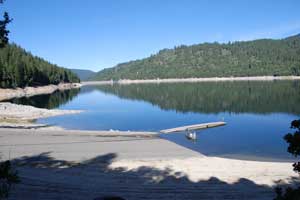 Beardsley Reservoir is along the Middle Fork of the Stanislaus River. To reach the lake turn off Highway 108 4 miles east of Strawberry and follow the 7-mile paved road(steep and windy) down to Beardsley Reservoir. There is a campground on the north side of the lake with 26 sites. At the Beardsley Reservoir Day Use Area at Beardsley Point you will find about 15 picnic tables, BBQ stands, flush toilets, a marked swimming area, and a nature trail that loops around the point between the picnic area and the boat launch ramp.
On the lake visitors enjoy fishing, boating, and water skiing. There is a good boat ramp. The end of the boat launch ramp was extended in 2014, but during times of very low water it may still have to be closed. When Beardsley Reservoir level is low, you have to drive down on the dry lake bed and hand launch your boat. The lake is open year-round but the access road is often closed in the winter. Check the Tri-Dam website for the latest information: Tri-Dam Project
Donnell Reservoir
(not recommended)
Elevation: 4,900'
Capacity: 58,000 acre feet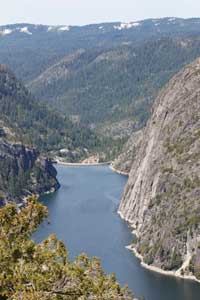 Donnell Reservoir is on the Middle Fork of the Stanislaus River about 5 miles above Beardsley Reservoir. Access to the lake is via a Forest Service road (5N09X) which cuts off from the Beardsley Reservoir Road (see above). A 2007 rockslide on the road caused the Forest Service to close vehicle access to Donnell Reservoir for a while but it has reopened. For the latest information at Donnell Reservoir: Tri-Dam Project
No facilities are provided for boating at Donnell Reservoir, although some changes to this may be in the works. Currently some people manage to haul small craft over fences and down to the water, but it is entirely at their own risk. The steep rocky terrain limits foot access to only small portions of the shoreline. No developed recreation facilities exist at the reservoir, however the area is popular for day use, dispersed camping and fishing. Donnell Reservoir is open all year with road access subject to winter closure.