Emigrant Lake Backpack Trail
Across the Heart of the Emigrant Wilderness
Emigrant Lake is a magnificent destination for an extended Emigrant Wilderness adventure. Whether you carry your own pack or arrange to be packed in by Kennedy Meadows Pack Station, Emigrant Lake is the perfect basecamp for exploring the dozens of lakes scattered about the wilderness just north of Yosemite National Park.
For most, the hike to Emigrant Lake is a two-day approach. The trail from Kennedy Meadows climbs steadily up past Relief Reservoir and on up Summit Creek. For those getting a late start the first day, Relief Reservoir makes a good stopping place. Otherwise, you may want to push on to Sheep Camp at the top of a steep grade along Summit Creek, 8 miles from Kennedy Meadows. The next day carries you over Mosquito Pass and down to Emigrant Lake.
Hiking Guide to Emigrant Lake
Getting Organized
Wilderness Permits for the hike to Emigrant Lake can be picked up at the Summit Ranger Station near Pinecrest or the Bridgeport Ranger Station in Bridgeport. Park at the trailhead parking lot a quarter mile before you reach Kennedy Meadows. Pick up last minute supplies at the Kennedy Meadows Resort store.
Starting the Hike to Emigrant Lake
The Heart of the Hike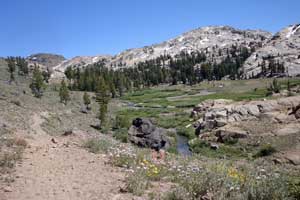 Follow the dirt road beyond the pack station over a slight rise and across Kennedy Meadow. The trail enters the Emigrant Wilderness at the far end of the meadow. Soon the trail crosses a bridge and begins a stiff climb up the old dam construction road carved out of the granite mountain side. You will cross a second bridge and then climb until you catch sight of Relief Reservoir.
The trail holds high on the mountain side as it passes Relief and then turns up Summit Creek. Once you reach Saucer Meadow you have joined the trail of the Gold Rush era emigrants who came down this way with their wagons. Continue up Summit Creek to Sheep Camp (8,800'), pass through Lunch Meadow and arrive at a junction (2 miles beyond Sheep Camp). Turn right and climb to Mosquito Pass before descending to Emigrant Lake.
Thomas Winnett's Sierra North has a section on hikes which begin at the the Kennedy Meadows trailhead. Included among them is the Emigrant Lake trip. This 9th edition of Sierra North, written with Kathy Morey and others, covers hikes throughout the Northern Sierra Nevada. It is considered the best hiking guide available for the region.
Camping
Campfires are not allow above 9,000', nor within a half mile of Emigrant Lake (8,800'). Good campsites can be found near the head of the lake and along the northern shoreline. Some areas that have received heavy use in the past are marked for site restoration.
Nearby Adventures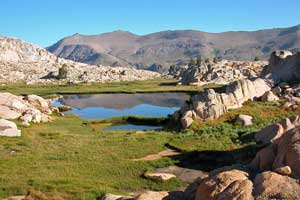 Fish nearby Lakes - With so many lakes close to Emigrant Lake, you'll never run out of new places to fish. Huckleberry Lake and Buck Lakes are known for their excellent fishing.
Return to Kennedy Meadows via Brown Bear Pass - Hike northeast from Emigrant Lake to Emigrant Meadow and then cross Brown Bear Pass, descending to rejoin your original trail a few miles down Summit Creek. Emigrant Meadow and Brown Bear Pass are part of the 1852-54 emigrant trail.