Chewing Gum Lake Trail
A Moderate Hike among Wildflowers
Chewing Gum Lake is a beautiful little camping spot not far inside the Emigrant Wilderness. It's not a fishing lake, but it can have spectacular sunsets and offers good swimming. The 4.5-miles hike to Chewing Gum Lake passes among wildflowers and has panoramic views of the Stanislaus River watershed.
Chewing Gum Lake is best done late in the summer when the snow has melted and the mosquitoes have died off. Because of its proximity to Pinecrest it makes a nice overnight backpacking trip for anyone staying at a nearby cabin.
Hiking Guide to Chewing Gum Lake
Getting Organized
Wilderness Permits for a backpacking trip to Chewing Gum Lake can be picked up at the Summit Ranger Station near Pinecrest or back at the Mi-Wuk Village Ranger Station. There are no restrooms or water at the trailhead, so be sure to stock up before you leave Pinecrest.
Getting to the Gianelli Cabin Trailhead
From Pinecrest drive up the Dodge Ridge Road until you see a turnoff to Bell Meadow and Crabtree Camp to your right. A short connecting road will bring you to Crabtree Road, which left Highway 108 back near Cold Springs (an alternate way to come). Drive up Crabtree Road past Aspen Meadow Pack Station and the turnoff to Crabtree Camp, keeping your sights on Gianelli's Cabin as your destination. It's 12 miles from Pinecrest, much of it on a gravel road.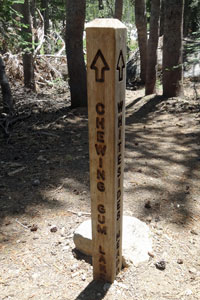 Hiking to Chewing Gum Lake
The trail from Gianelli's Cabin climbs 500 feet along the ridge to Burst Rock (9,100') where you will find great views of the Stanislaus River watershed to the north. 1852-54 emigrants brought their wagons over the top of Burst Rock and followed the ridges down to Dodge Ridge and then Pinecrest. Continue down the backside of Burst Rock. A mile from the summit you pass a "use trail" that leads down to Powell Lake, known for great swimming and also as a popular hangout for young people.
Climb another ridge and then head down the other side, watching for your turnoff to Chewing Gum Lake at about mile 3.5. The trail leads down through Lakes Valley. You will find many pretty, small lakes scattered about the area.
Camping at Chewing Gum Lake
The best campsites at Chewing Gum Lake are on the east and southern sides of the lake.
Thomas Winnett's Sierra North has long been the best guide to backpacking in the northern Sierra Nevada. In this 9th edition written with Kathy Morey you will find a section on a variety of hikes which begin at the Gianelli Cabin Trailhead.
Nearby Adventures
Hike to Y Dam Meadow Lake - If your anxious to fish, Y Dam Meadow Lake makes a good destination. The check dam at the end of the lake keeps water levels high enough for fish to thrive. Following the trail is a better choice than attempting the difficult cross-country route.
Return to Powell Lake for a Swim - Even though you may not want to camp at Powell Lake, the swimming is great, and surprisingly the fishing isn't bad either.