Lane Lake Backpack Trail
An Easy Jaunt to a Scenic Campsite
The 3.5-mile hike from Leavitt Meadow to Lane Lake can be done in less than 2 hours. Lane Lake and its sister Roosevelt Lake offer good fishing and comfortable campsites with views of the lakes. This easy hike makes a great backpacking outing on which to bring children and introduce them to the wilderness.
The backpacking hike begins at the Leavitt Meadow Campground and heads up Leavitt Meadow. After a couple of miles the trail climbs 400 feet to a ridge at 7,500' and then drops to the twin lakes.
Hiking Guide to Lane Lake
Getting Organized
Wilderness Permits for the backpacking trip to Lane Lake can be picked up at the Summit Ranger Station near Pinecrest on the west side of the Sierra or at the Bridgeport Ranger Station just south of Bridgeport. Permits may also be obtained at the self-serve kiosk at the trailhead parking lot immediately south of the Leavitt Meadow Campground.
Starting the Hike to Kennedy Lake
Hike down through the campground to the bridge and then up the slight hill. At the trail junction turn right and follow the trail down into Leavitt Meadow. Water is scarce here in late summer unless you want to scramble down to the Walker River below in the meadow.
The Heart of the Hike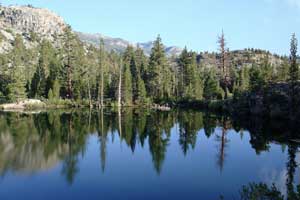 After two miles of fairly level hiking up the meadow, the trail swings uphill. At times it is steep, but you soon arrive at a trail junction, marking the end of the uphill. Turn right there and follow the trail downhill to Roosevelt Lake. The trail skirts the lake and quickly arrives at Lane Lake. Fishing is good in both lakes.
Camping
There are campsites around Roosevelt Lake, but the sites on Lane Lake are more secluded. Look around the lake on the southern side. In the summer these lakes are a popular destination, but a little poking around on the far shores turns up good sites for a tent.
Nearby Adventures
Fish at Fremont Lake - Fishing is excellent at Fremont Lake. While you are there, hike to the lower end and see the ditch the emigrants dug to drain the lake level down several feet so they could take their wagons through the shallows on the west side of the lake. 5 miles.
Hike to the Waterfall - In the meadow immediately south of Lane Lake pick up the old trail that parallels the river. Follow it past the beaver pond and upstream .75 miles. Watch for "use trails" leading off to the right to the waterfall.
Fish at Secret Lake and Poore Lake Only a short distance back up the trail to the north take the side trail to Secret Lake or over to Poore Lake for some good fishing. The Secret Lake trail makes a nice variation to return to Leavitt Meadow.