Horseback Riding, Fishing, Hiking, Hunting
To reach Leavitt Meadow drive over the summit of Sonora Pass heading east and down to the meadow at the foot of the pass. It is 44 miles east of Pinecrest and about 8 miles west of Highway 395 at Sonora Junction.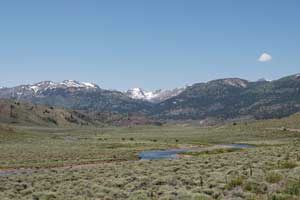 Leavitt Meadow is a 2 mile long grassland with the West Walker River meandering through it, a perfect location for fishing, photography, and hiking. In nearby Pickel Meadow (shown right) the Marines have a mountain warfare training facility. You will often see troops training on the cliffs above Leavitt Meadow or on maneuvers in the hills east of their base.
New Bridge
The foot-bridge at the Leavitt Meadow Campground was replaced in early May 2014.
A number of good fishing lakes are within an easy walk of Leavitt Meadow, including Poore Lake, Kirman Lake, and Lane and Roosevelt lakes. Adjacent to the Hoover Wilderness, Leavitt Meadow makes a good place to begin your explorations of the wilderness area with its numerous trails, lakes, and peaks. In the 1850s emigrant wagon trains rolled through Pickel Meadow and Leavitt Meadow, heading up into the mountains on their way to the gold fields.