Sonora Pass Vacations
HOME
Lodging and Camping
Recreation Areas
Outdoor Recreation
Sightseeing:
Events
Services
Winter Activities
Herring Creek Campgrounds
Fishing, Swimming, Hunting, Sightseeing
To reach Herring Creek Campgrounds drive 2 miles east of Strawberry on Highway 108, watching for the turnoff to Herring Creek on your right. Follow the Herring Creek road 7 miles to Herring Creek Reservoir Campground and nearby Herring Creek Campground.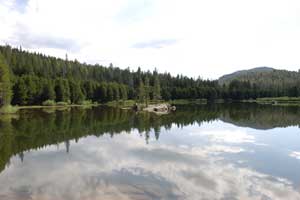 Herring Creek campgrounds are at an elevation of about 7,400' and usually open by June. Nearby Herring Creek Reservoir is only a half mile away along a dirt road. It is popular for fishing and swimming.
Close by you will find the Trail of the Gargoyles, a short hike taking you to volcanic cliffs sculpted by erosion into strange configurations. There are many possibilities for serious mountain biking and OHV-ing near the Herring Creek Campgrounds.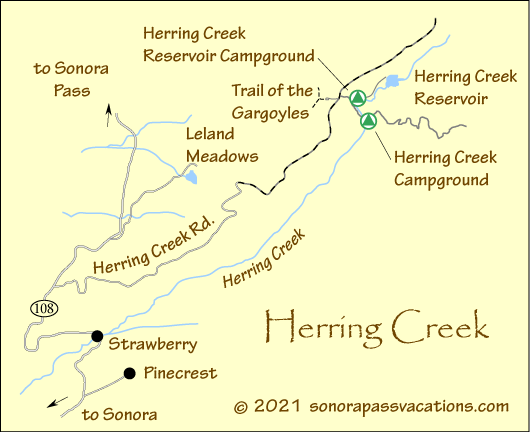 Herring Creek Reservoir Campground
The Herring Creek Reservoir Campground has been reduced in size in recent years. At one time campsites spread along the rodd leading to Herring Creek Reservoir, but sanitation problems caused the Forest Service to close the road except for the first quarter mile. All camping is now prohibited beyond the gate on the road. There is still a small campground available with fire rings. One campsite has a picnic table. Several of the campsites are beautifully situated next to Herring Creek.
The Herring Creek Reservoir Campground is on a first come, first served basis. The best access road is the second of the two little roads that lead into the campground. Access to Herring Creek Reservoir is along a half mile road. The lake is a great place for fishing, both for experienced anglers and children.
Fee: free (donation to cover cost of maintenance suggested)
Herring Creek Reservoir Campground Amenities
9 sites
No piped water
Vault toilets
Herring Creek Campground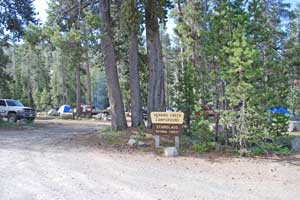 The Herring Creek Campground is an unimproved camping area without water, so there is no fee for its use. It has no garbage service, so all of your refuse has to be packed out. There are fire rings. It is on a first come, first served basis. The campground is located along the bank of Herring Creek.
Fee: free (donation to cover cost of maintenance suggested)
Herring Creek Campground Amenities
7 sites
No piped water
Vault toilets