Backpacking, Day Hikes, Bicycling, and Mountain Biking
Sonora Pass has something for everyone. Backpackers migrate to places like the Emigrant Wilderness while day hikers find a host of rewarding trails from quarter-mile nature walks to the popular trail around Pinecrest lake to enjoying a stroll along old railroad grades. Bicycling is a favorite past-time in places like the gentle streets of Pinecrest while more serious riders challenge themselves along Highway 108. Mountain biking is popular too in the hills around Pinecrest.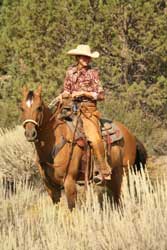 Horseback Riding and Everything Else
Horseback riding is very popular all over Sonora Pass because of the great trails. Kennedy Meadows attracts many riding groups. Pack stations on both sides of Sonora Pass offer guided day rides and pack trips.
Sonora Pass is full of surprises like beautiful waterfalls, fascinating displays of unusual geology (such at the Columns of the Giants and the Trail of the Gargoyles), and the 3,000-year-old Bennett Juniper, the largest western juniper in existence. Along the Sonora Pass highway you can see remnants of the early Sonora and Mono Wagon Road and cross the historic wagon trail of the Gold Rush emigrants.
Skiing, Snowboarding, and Playing in the Snow
Dodge Ridge Ski Area draws skiers and snowboarders every winter to its exciting slopes. For those who prefer cross-country skiing, a web of Nordic ski trails are available close to Dodge Ridge Ski Area and Pinecrest. Snowmobilers like to head out to the Sno-Park at the end of the plowed section of Highway 108 just beyond Strawberry and set out into the high country. For playing in the snow you can visit Leland High Sierra Snowplay or just find a safe place to pull over and make a snowman. A vacation rental cabin makes a great base for families or groups who want to spend time at Dodge Ridge Ski Area or just hang around the cabin.
A Scenic Drive Over Sonora Pass
Beyond Kennedy Meadows the Sonora Pass road climbs steeply to its 9,628-summit, the second highest auto pass in California. (Tioga Pass is the highest at 9.945'.) Because of its steep grade, the upper portion of Sonora Pass is not recommended for large motor homes or trailers. At the summit you can park and set out along a portion of the Pacific Crest Trail for great vistas of the surrounding countryside.
On the east side of Sonora Pass you cross into Mono County. The road descends quickly past waterfalls and wooded glens to scenic Leavitt Meadow, known for its great camping, fishing, and hiking.
Wherever you travel on Sonora Pass you will be sure to finds places of interest and beauty that will call you back again year after year.
Plan your Sonora Pass vacation here on Sonora Pass Vacations with everything at your fingertips from vacation cabin rentals to the top-10 fishing spots, from the finest boating lakes to the best campgrounds.

Sonora Pass Camping
The Sonora Pass area is known for its magnificent campgrounds. With a little browsing through the pages of this guide you'll find the campground best suited to your interests.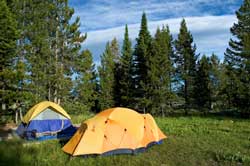 Some of the most popular campgrounds are at Pinecrest Lake where great boating, fishing, swimming, and hiking and other attractions are all right there at your doorstep. For the hearty, some campsites at Pinecrest are even available in the winter, making it an economical way to spend a few days while skiing at Dodge Ridge Ski Area Farther up Sonora Pass along the Stanislaus River are clusters of campgrounds at favorite destinations like Clarks Fork, Brightman (Dardanelle), and Kennedy Meadows.
Those who seek a little more solitude or adventure in the camping can search out the more remote campgrounds such as along Herring Creek, Hull Creek, or Sand Bar Flat. Many areas of the Stanislaus National Forest are open for free of charge to Dispersed Camping. There are also specialty campgrounds for those with horses, for OHV enthusiasts, or for large groups.
Sonora Pass Cabins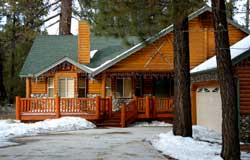 Sonora Pass is located in California's Sierra Nevada, mid-way between Lake Tahoe and Yosemite National Park. Follow Highway 108 out of Sonora in Tuolumne County and you will soon find yourself in one of the best camping and outdoor recreation areas in California.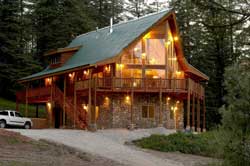 Small communities of charming vacation rental cabins are tucked away among the pines along the Highway 108 corridor from Twain Harte to Dardanelle. Many of these cabins are available as vacation rental cabins, providing an economical way for families or small groups of friends to enjoy a weekend or longer "rusticating in the mountains" (as the old-timers used to call it). All are within an easy drive of Dodge Ridge Ski Area and Leland High Sierra Snowplay resort.
Dodge Ridge Ski Area
Dodge Ridge Ski Area has been a favorite with central California skiers for more than half a century. In more recent years snowboarders have discovered Dodge Ridge Ski Area's varied slopes and challenging freestyle terrain parks. With vacation rental cabins clustered in communities near Dodge Ridge Ski Area visitors to the ski resort can find reasonably priced lodging to make a weekend at Dodge Ridge Ski Area affordable for family recreation. Dodge Ridge Ski Area lift tickets run a third less than at the Tahoe area ski resorts, and the experienced and friendly ski school make it an ideal destination for families and groups, beginners and experts.
Only a few miles from Dodge Ridge Ski Area is Leland High Sierra Snowplay, known to some as Leland Meadows. Leland High Sierra Snowplay offers a safe place for snow sliding with the convenience of a day lodge. Leland High Sierra Snowplay provides the sliding tubes and even has lifts for those who would prefer not to walk up the hills.
Nearby on Ebbetts Pass and Carson Pass
Ebbetts Pass

Only a few miles to the north, Ebbetts Pass Scenic Byway (Highway 4) offers mountain lakes, winter skiing, wonderful camping, and a multitude of other outdoor recreation opportunities. You may want to consider looking through our sister website Ebbetts Pass Adventures.
Carson Pass

A little farther to the north, Carson Pass (Highway 88) has mountain lakes like Silver Lake and Caples Lake, winter skiing at Kirkwood, great camping sites, and a host of other outdoor recreation opportunities. You may want to consider looking through our sister website Up and Over Carson Pass.
Nearby in the San Joaquin Valley
Stockton

Only a few miles to the west in the San Joaquin Valley spreads the city of Stockton, home to beautiful shaded parks, professional sports, the Stockton waterfront, art and music, the University of the Pacific and Delta College, the Stockton Civic Theatre's amazing stage productions, and so much more. Discover it all on our sister website Stockton Treasures.